How beaches support and improve our health and well-being
Tourism Australia recently announced the Top 20 'best Australian beaches' for 2022 from more than 12,000 beaches in Australia.
Beach expert, Brad Farmer, claims that he has visited most of the country's beaches over the last 35 years; however, "narrowing down the list is one of the toughest jobs in Australia".
A little-known beach in Western Australia has upstaged better-known beaches to take out the top spot for 2022.
Misery Beach, in the Torndirrup National Park near Albany, was named the country's best beach for 2022. The beach, a five-hour drive from Perth, was the home of a nearby whaling station until 1978, hence it's less-than-romantic name.
The Tourism Australia list has not been without controversy over the years.In 2020 it ranked inland Wagga Beach, 270 kilometres from the New South Wales coast, in ninth spot.
Mr Farmer said many of Australia's famous beaches were "fatigued and overexposed".
When asked, "What makes a good beach?", Farmer replied:
"Increasingly, [it's] natural beaches that aren't commercialised as they are in Asia, America and Europe. Of the beaches I've chosen this year in the Top 20, fifteen are in National Parks or Reserves and all of the beaches in Australia have connections to First Nations."
Farmer, says Misery Beach is world-class:
"It is a stunning beach. It just ticks all the boxes of what the typical beachgoer is looking for - uncrowded, crystal-white sand, turquoise waters and a very dramatic granite backdrop."
( ABC News https://www.abc.net.au/news/2022-01-30/australia-best-beach-misery-beach-albany-wa/10071482030 January 2022)
NSW scored the most spots on the top 20 with six beaches listed, including Horseshoe Bay on the mid-north Coast at No. 2. Also slotted into the top ten are Depot Beach and Murrays Beach.
Queensland grabbed four Top 20 spots including a popular Gold Coast beach that has beenranked among the top beaches in Australia for 2022.
The Spit Beach in Federation Walk Coastal Reserve on the Gold Coast was rated the No. 3 'best beach' on Tourism Australia's list of the "finest stretches of sand in the country".
Top 20 Best Beaches
1. Misery Beach, WA
2. Horseshoe Bay, NSW
3. The Spit, Queensland
4. Flaherty's Beach, SA
5. Loch Ard Gorge, Victoria
6. The Neck, Tasmania
7. Blue Pearl Bay, Queensland
8. Depot Beach, NSW
9. Murray Beach, NSW
10. Dundee Beach, NT
11. Dudley Beach, NSW
12. Thompsons Beach, Victoria
13. Coogee Beach, WA
14. Mots Beach, Victoria
15. Alexandria Bay, Queensland
16. Emu Bay, SA
17. Lake Wabby, Queensland
18. Congwong Beach, NSW
19. Jelly Bean Pool, NSW
20. Ethel Beach, Christmas Island
The Federal Minister for Tourism remarked, "the list is designed to inspire tourism especially as the industry looks to rebound "following the relaxation of coronavirus restrictionsand with Australia's State and International borders re-opening.
Even before the Covid-19 pandemic border closures, 'Australian Beaches' were rated by international travellers as the 'most appealing attraction' when visiting Australia.
Australia's Most Appealing Tourism Attractions
A Tourism Australia survey of over 13,000 international tourists revealed the 'Most Appealing Australian Attractions' to our international visitors.
At the top of the list are:
"AUSTRALIAN BEACHES" AT 53% APPEAL AND "AUSTRALIAN WILDLIFE" AT 46%
And at the bottom of the list:
"CASINOS, NIGHTCLUBS AND BARS" AT 12% APPEAL AND 'LUXURY ACCOMMODATION" AT 17%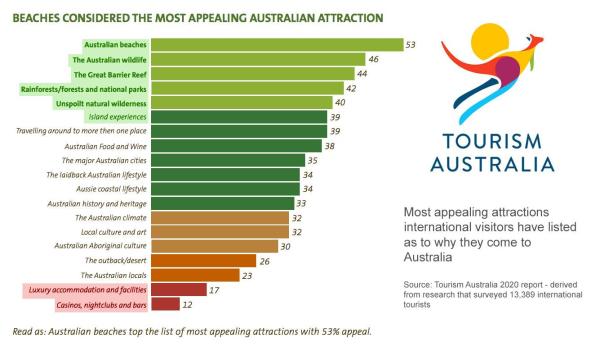 Appealing Queensland Attractions
Queensland is the only Australian State to offer all 6 of the most appealing attractions to International visitors, as documented in the Tourism Australia 2020 Report above.
Australian Beaches (53% appeal)
The Australian Wildlife (46%)
The Great Barrier Reef (44%)
Rainforests/forests and National Parks (42%)
Unspoilt Natural Wilderness (40%)
Island Experiences (39%)
The Spit, Gold Coast Seaway and Southern Broadwater, Gold Coast, Queensland.
Prior to the global Covid-19 pandemic, 26 million domestic and international overnight visitors came to Queensland each year. The Gold Coast region attracts over 13 million of those visitors.
Economic, Environmental and Tourism Values of Gold Coast Beaches
In 2012, a major study by Urbis revealed the economic values associated with a healthy and functioning Broadwater and its foreshores that form the western boundary of The Spit.
The Economic Baseline value of the Gold Coast Broadwater in 2012 was almost $4.16 billion.
This value included:
Residential and Non Residential Property Values; Marina Values; Open Space Value; Environmental land value; Infrastructure Values; and Waste-water Treatment.
More than half the Broadwater's value rests in its open space and environmental land. Open Space was valued at $818.34 million and Environmental land at $1.56 billion for a combined total of $2.38 billion.
And the Urbis study did not include the value of the open space and environmental land on the ocean side of The Spit in Philip Park and Federation Walk Coastal Reserve (93 hectares).
Federation Walk Coastal Reserve supports a subtle mix of habitats including littoral rainforests, native grasslands, pockets of wetlands and the reserve hosts the last remaining full coastal dune system (4 kms in length) on the Gold Coast. The ocean-side of The Spit also offers consistent world-class surf breaks looking over a natural coastline rather than the predominance of highrise buildings, wind tunnelling and beach shadows caused bythese man-made structures on most of the Gold Coast beaches south of The Spit.
The network of trails through the Federation Walk Coastal Reserve is used for bushwalking, birdwatching, running, bike riding, just chilling out in a natural coastal environment and a leash-free dog beach is available at the most northern end of The Spit.
The Broadwater and Gold Coast Seaway offer opportunities for sailing, boating, fishing, swimming, snorkelling, kite & windsurfing, kayaking and the best inshore dive sites of any city in Australia.
Beaches and Surfing
The Australian Bureau of Statistics reports that participation in surfing is second only to swimming and slightly higher than fishing in Australia.
Participation in surfing is also greater than ice and snow sports; water-skiing and power boating; sailing; canoeing and kayaking; scuba diving; and surf lifesaving, in that order.
Surfing activities can be found all along the Gold Coast's 57 kilometres of ocean beaches. There is a cluster of surf businesses from Southport to Coolangatta. World famous surf breaks can be found at both ends of the Gold Coast including the "Superbank" at Coolangatta. The southern section of the coastline from Burleigh Point to Snapper Rocks was declared a World Surfing Reserve in 2015.
The Gold Coast joins a small honour roll of other renowned World Surfing Reserves including:
Malibu, California
Ericeira, Portugal
Manly Beach, Australia
Santa Cruz, California
Huanchaco, Peru
Bahia Todos Santos, Baja California Mexico
Before COVID-19, global surf tourism spending was estimated at up to A$91 billion per year. And since the start of the pandemic, demand for surfing has boomed as people increasingly turn to outdoor activities.
But surfing's benefits to human well-being aren't often studied in economics terms.
Surfing Economics
Surfing plays a major part in recreation and tourism strategies for many coastal locations. Any negative impact to surfing amenity in these locations may have serious consequences for the resident surfing population, visitors to the area, the local surf industry and the entire local coastal economy.
A recent Surf Industry Development Report, which was a world first, found $2 billion in activity was attributable to the surfing industry on the Gold Coast, making it the city's third biggest industry.
The industry is incredibly diverse including surfboard shaping, clothing and hardware design, surf schools, educators and surf media. In addition to recreational surf tourists, surfing events and surf schools (https://getwetsurf.com/ ) that generate significant tourism spending.
The report estimated the sport generated up to a further $3 billion in output and created 21,760 employment positions paying $1 billion per annum in wages and salaries.
(http://www.beachapedia.org/Surfonomics)
A 2008 socio-economic study of recreational surfing on the Gold Coastwas prepared as part of the Gold Coast City Council Shoreline Management Plan by Neil Lazarow through Griffith University's Centre for Coastal Management Research.
A summary of the 2008 study revealed:
A conservative estimate of the number of recreational surfers on the Gold Coast was 65,000, made up of 41,000 resident surfers and 24,000 visiting surfers. The upper estimate is approximately 120,000 surfers.
It is estimated that there are between 6 - 15 million person visits or individual surf sessions per year on the Gold Coast.
The total reported annual expenditure by recreational surfers on the Gold Coast was estimated to range from $256 - $474 million.
A more conservative approach filtered the data in order to account for expenditure that was likely to take place outside of the Gold Coast. Using this method the total reported annual expenditure by recreational surfers on the Gold Coast was estimated to range from $126 - $233 million.
These figures treat visitation and expenditure by local residents and visitors (day, short-stay, long-stay and semi-permanent) do not account for the value of surf schools, airline travel to the Gold Coast, accommodation taken up by visitors who surf or surf industry related values such as rent and the wages of those involved in the surf industry. Each of these factors may substantially increase the total worth of surfing to the region.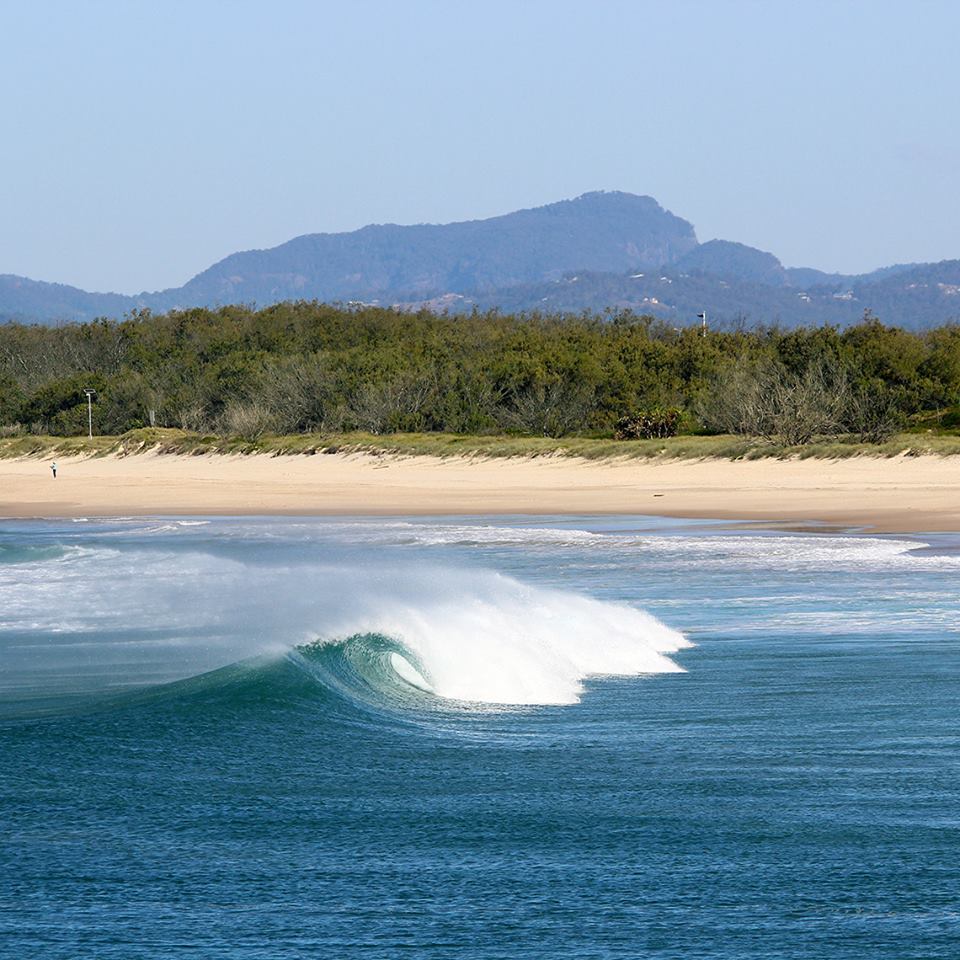 Of the nine Gold Coast study locations, the estimated value of recreational surfing at the 4beaches on and nearest The Spit per year by Location (percentage of total) and Expenditure value (to the nearest million) was:
Main Beach / Southport (3%) $3.5 - 7 million
Narrowneck (3%) $3.5 - 7 million
South Stradbroke Island (14.5%) $18 - 33 million
Spit (6%) $7.5 - 15 million
Total (26.5%) $32.5 - 62 million
These figures translate to over one-quarter of annual expenditure on the Gold Coast by recreational surfers being spent in the four northern-most ocean beach locations adjoining The Spit and Broadwater.
The total (conservative) annual expenditure by recreational surfers for all Gold Coast beaches was $126 - 233 million.
Extrapolated to 2021 figures, a conservative estimate of the contribution to the Gold Coast economy by resident and visiting surfers, based on inflation and surf population growth, is $186 - 335 million per annum.
(from http://www.saveourspit.com/No_Terminal/news/NewsArticle.jsp?News_ID=304)
Reconnect with Nature
Dr Bhullar, Associate Professor of Psychology (Faculty of Medicine and Health, UNE), maintains:
"Nature provides us with respite from that daily grind of routines and demands..."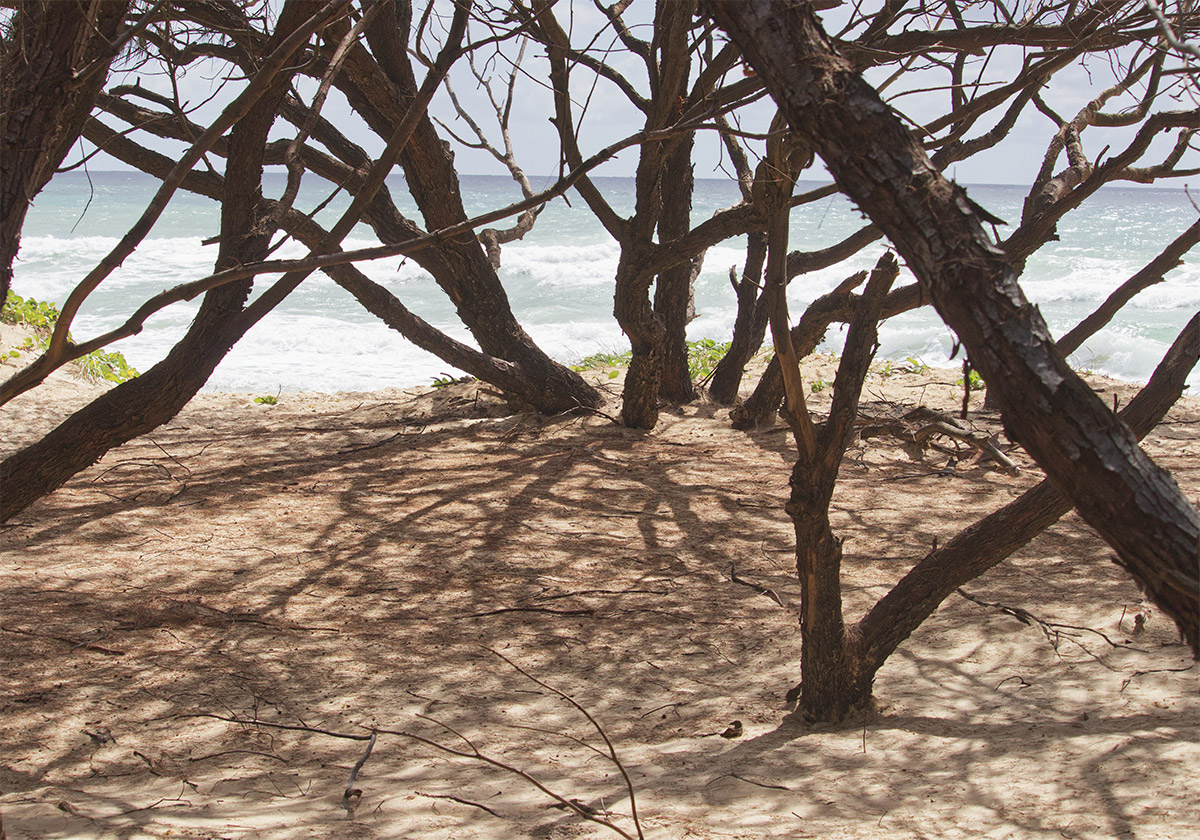 Research data involving "an excellent body of research, including correlative, longitudinal effects" reveals that spending time in nature, rather than just exposure to nature, results in:
reductions in anger
reductions in feelings of fatigue
increases in positive mood (happiness)
decreases in negative mood (unhappiness)
reductions in ADHD in children
reductions of symptoms of depression in late adulthood
Attention Restoration Theory (ART)
There's something in our Ancestral history where the natural patterns, green and blue colours... soothe us and make us calm. This is because the attention we place on those patterns and colours is effortless and there's a sense of fascination with them. This sense of 'restorativeness' gives us our sense of wellbeing.
Stress Reduction Theory (SRT)
Looking at scenery containing natural elements like greenery or water creates positive emotions and feelings like interest, pleasure and calm, and has a restorative effect, easing our state of alert following a stressful situation. Our response is then improved rapidly and spontaneously.
Behavioural scientists and psychology academics like Bhullar are now teaming up with ecologists in inter-disciplinary research because there are not only environmental and economic benefits to retaining bio-diversity and ecological systems, they also have proven social and human health benefits.
Contact with Nature makes us feel better.
Leave the road, take the trails - Pythagoras
(from http://www.goldcoastwiki.com.au/Health/news/NewsArticle.jsp?News_ID=63)
Nature, Surfing and Body image
Until recently, the value of surfing to human well-being has been largely ignored.
This is despite recent evidence pointing to surfing's positive social and health outcomes, including among war veterans and children with chronic illnesses.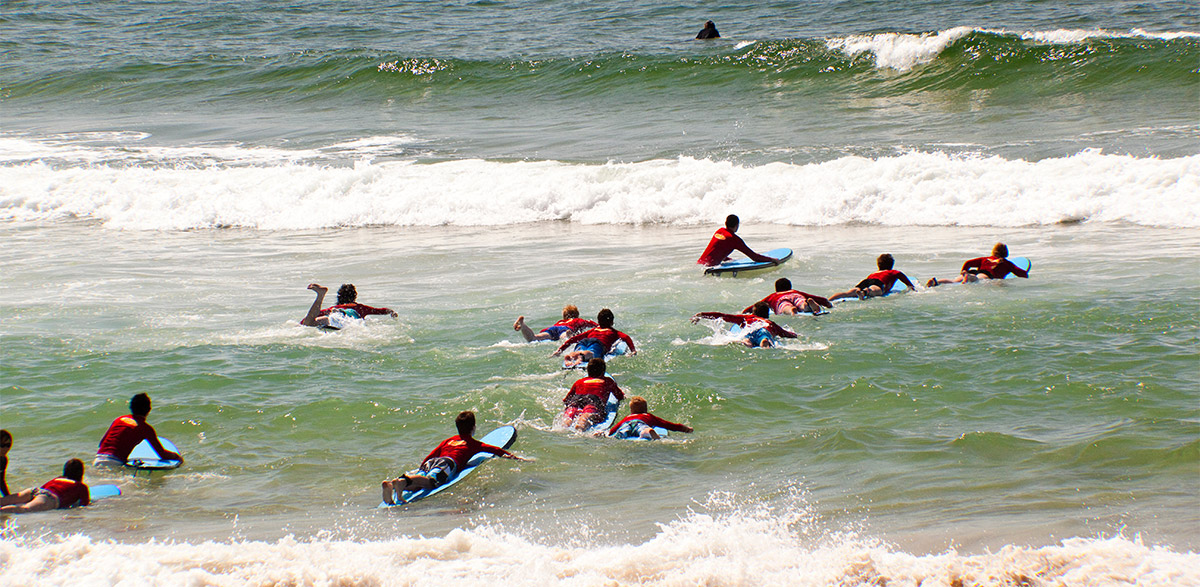 A 2006 studyfound that adolescents with negative body image concerns "are more likely to be depressed, anxious, and suicidal than those without intense dissatisfaction over their appearance, even when compared to adolescents with other psychiatric illnesses".
A 2016 studyfound that logging on to social media sites frequently throughout the week or spending hours trawling various social feeds during the day "is linked to a greater risk of young adults developing eating and body image concerns".
It almost sounds silly to suggest that a day at the beach or a walk among the trees can serve as a circuit breaker.
Five years ago, youth worker and surfer Rachael Parker founded Ocean Mind, an organisation that takes young people out of themselves, partners them with a mentor and teaches them surfing.
These are kids with a range of issues from lack of confidence, mental health challenges and, yes, body issues.
One theory about the benefits of getting into nature is it shifts a young person from thinking about their body to feeling the physicality of their body.
"We get them down to the beach and give them a really fun and engaging experience where they have an opportunity to go out of their comfort zone and try something," Ms Parker said.
"We see that they find enjoyment in the challenge and in the mastery of a new skill."
These are young people who arrive into the program with "very low" self-esteem and poor self-image. This begins to shift with the relationship they develop with their mentor, and through the process of learning to surf.
Time at the beach also provides a break from social media exposure.
"It can be so toxic and damaging," she said. "We see that it's helpful to take a break from those sorts of resources. They tell us that the time here is a break from their lives."
Based in Torquay, Victoria, evidence for the success of the program is found in its waiting list.
(from John Elder. Unhealthy body image? Get among the trees, give yourself time to think
The New Daily, 21 January 2022)
Coastal Management and Surf Beaches
Waves that can be surfed are the product of complex interactions between waves, tides, currents, wind and theshape of the seabed. Shallow coral reefs, headlands and sand banks are responsible for making highly sought-after waves.
By directly or indirectly impacting any of these factors, wave quality has been changed for better - or for worse.
Studies have shown that well planned coastal management interventions can dramatically increase benefits to surfers and non-surfers alike.
Threats to surf breaks by coastal activities, such assewage dischargesor building offshore structures, must be avoided or mitigated.
(Ana Manero.Research Fellow, Australian National University et al. What is the value of a wave? The Conversation. 10 January 2022.)
A lack of access to Nature and destruction of Natural environments has contributed to serious mental health issues, creating what Professor Bhullar calls a 'Climate Anxiety' or 'Eco-Anxiety':
"Let that anxiety prompt us to act on climate... It's time to give back and protect Nature, preserve Nature."
Dr Bhullar, Associate Professor of Psychology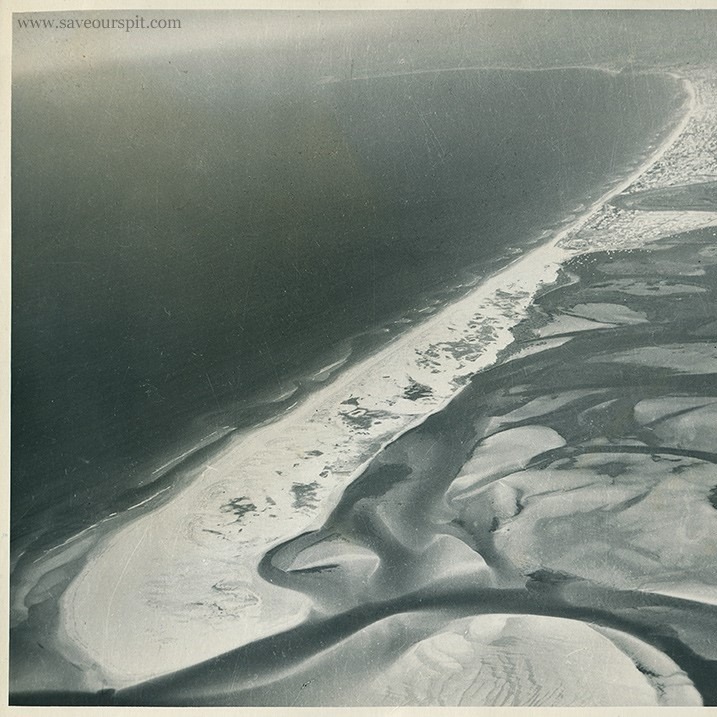 Gold Coast Eco-Anxiety
The Gold Coast, Queensland, Australia is home to over 600,000 residents. It's a highly popular domestic and international tourist destination with its world-renowned Pacific Ocean surf beaches.
The Spit Beach – Gold Coast 2022
Other attractions include the Gold Coast's year-round warm, sub-tropical climate and the nearby Gold Coast Hinterland offering Nature walks in abundance at the World Heritage-listed Springbrook National Park (Gondwana Rainforests of Australia - World Heritage Area) where ancient 2000 year-old trees and ferns are still living deep in the park's rainforests.
However, within 10 minutes walking and 5 minutes cycling distance of the most densely populated Gold Coast suburbs of Main Beach and Surfers Paradise, is the Nerang River estuary, known as The Spit and Broadwater.
Gold Coast community groups have fought for over 50 years to save The Spit and Broadwater from overdevelopment, major commercialisation and socially and environmentally destructive highrise, casino and cruise ship terminal proposals.
As a consequence, the gateway emotion, referred to above by Dr Bhullar as "Eco-anxiety", has resulted in Community action to save and enhance The Spit and Broadwater's parks, islands, beaches, foreshores and waterways as permanent public open spaces.
For instance, the local community group, Save Our Spit Alliance, has used protest campaigns, public rallies, political pressure, published technical reports and environmental research data and made documentary films (see link) as strategies over the past 20 years to protect the Natural assets of The Spit and Broadwater.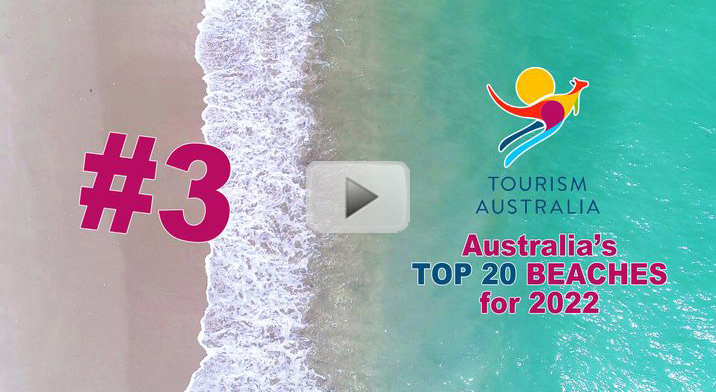 The Spit - Federation Walk trail in 2022 following 20 years of the community planting program
Since 2000, a program of planting indigenous coastal trees and vegetation on The Spit dunes by volunteer community group, Friends of Federation Walk, has stabilised the dunes and created littoral woodlands and rainforests in Federation Walk Coastal Reserve (FWCR). The Spit is now the host to endangered ecological systems and threatened wildlife species. The Spit is the last remaining dune system on the Gold Coast's mainland that has not been destroyed or built on for residential or commercial purposes.
Federation Walk Coastal Reserve now provides habitat and roosting, foraging and nesting sites for a diverse range of wildlife species including protected, threatened and endangered migratory shore birds, 3 species of protected turtles and the majestic, White-bellied Sea-Eagle. The Nature-based experiences offered in FWCR can be experienced by all on an easily accessible, shared pedestrian-bicycle trail known as Federation Walk.
Gold Coast Seaway
The Gold Coast Seaway walls were constructed in 1986 on the northern end of The Spit to stabilise the Nerang River entrance (previously known as Porpoise Point) for the safety of boats entering from the ocean and exiting to the ocean from the Nerang River Broadwater.
As an unexpected outcome of the Seaway-wall construction and the world's firstSand Bypass System, a marine eco-system has been created that now supports and hosts over 500 species of marine life; including, protected and endangered species such as Dugong; Green, Hawksbill and Loggerhead Turtles; and the Queensland Groper.
The Seaway and surrounds at Wavebreak Island in the Broadwater are now considered the best inshore dive-sites of any city in Australia.
The Sand Bypass System was designed to mimic the natural flow of sand along the coastline and minimise impacts to the coastal environment caused by the construction of the Seaway walls.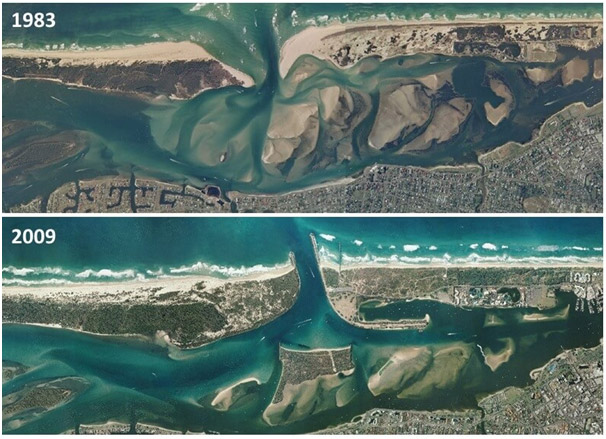 At the jetty, sand is drawn in by submerged jet pumps along the jetty pylons.This northwards drifting ocean sand is intercepted before it accumulates at the Nerang River entrance.The sand is then piped to the landward end of the jetty and 'delivered' through underground pipes back to the ocean north of the river and Seaway walls onto the beach on South Stradbroke Island.
The large-capacity fixed-sand bypassing system is an integral part of the design of the seaway and currently pumps 500,000 cubic metres of sand north across the Seaway each year.
The Gold Coast Seaway proves that although nature can't be tamed, she can be guided.
(adapted from https://gcwa.qld.gov.au/gold-coast-seaway-history/)
Nature Based Recreation
Under community pressure, the City of Gold Coast has recently recognised the social and human health benefits of preserving the remaining Natural locations that are easily accessible to residents, as described in their publication, Nature Based Recreation Plan 2015-2025 (NBRP).
Nature based recreation is defined as outdoor recreation activities that:
are dependent on the natural environment
have an appreciation of nature as a key motivational factor
do not require substantial modification to the natural environment
are environmentally sustainable, as determined by an ongoing environmental monitoring program
(from Nature Based Recreation Plan 2015 - 2025, "2. Scope". CoGC, 2015)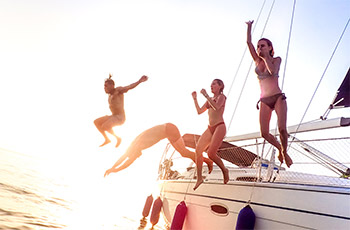 Boat hire on the Gold Coast has always been popular.
The Spit - No. 3 Best Beach in Australia
Nature-based tourism took off in Australia during 2020-2021 during the Covid pandemic.
International and State border closures during the height of the Covid-19 pandemic saw Australiansflocking in huge numbers to National and State Parks in rural, regional and coastal areas within their own States.
The annual international trips to Bali, Thailand, Europe etc were not possible, so locals took to intra-State vacations exploring the States in which they lived. The majority of intra-State travellers preferred to holiday in locations that offered natural assets rather than urban or city holiday destinations.
The closing of Western Australia's border was a windfall for local tourism in some regional towns, as WA locals traded their international travel plans for local attractions like Margaret River's wineriesand beautiful surf beaches. For example, Margaret River regionoperators recorded 2020 as their best ever winter season. Intrastate tourists filled an unprecedented 61% of rooms. By comparison, the month of July is normally considered the region's 'low season' with tourists filling just 50% of available rooms.
Nature based tourism is also thriving in Queensland's Gold Coast and The Spit is one of the most popular nature based locations.
Brad Farmer, described The Spit as:
"The Spit is reserved for quiet bushwalks or surfside reflections - with less crowded surfing conditions than the more iconic National Surfing Reserve pointbreaks to the south.
Away from the intensely developed concreted city spine, here soft walking trails through low vegetation, lead to a frequently uncrowded, four km stretch of beach, backing onto the tranquil Broadwater, on its immediate western shoreline.
The Seaway Promenade at the Top of The Spit provides a wide, 670 m long accessible pathway, enabling visitors to reach the eastern end of the southern Seaway wall with its spectacular views of the Gold Coast skyline.
Whether it's walking your dog, getting wet or launching your boat in the Broadwater, The Spit really has something for everyone."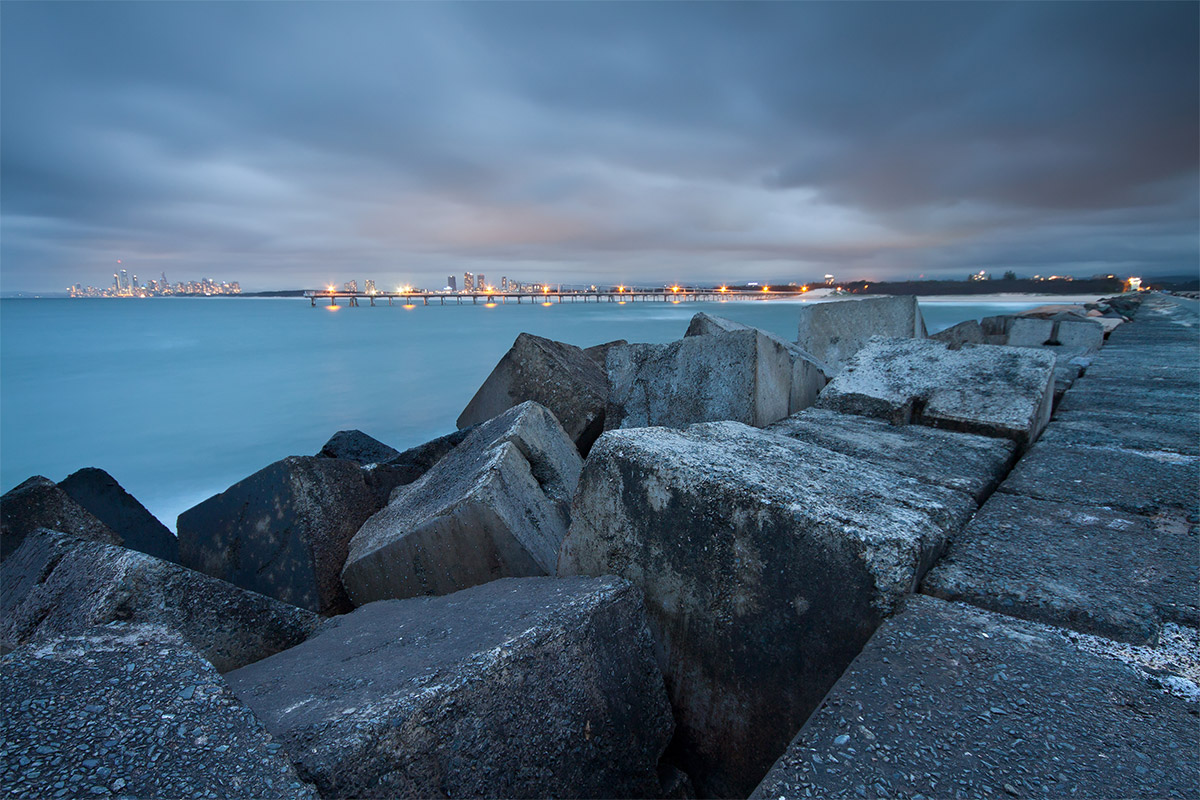 "The Spit is a national treasure to be preserved for future generations"
Brad Farmer. Tourism Australia - Beach Ambassador. 30 January 2022
Researched, compiled, composed, written & edited by Dr Steven Gration. March 2022
References and Sources
ABC News.30 January 2022.https://www.abc.net.au/news/2022-01-30/australia-best-beach-misery-beach-albany-wa/100714820
Ana Manero.Research Fellow, Australian National University
Alaya Spencer-Cotton.Research assistant, The University of Western Australia
Javier Leon. Senior lecturer, University of the Sunshine Coast
Neil Lazarow.Senior Research Consultant, CSIRO
What is the value of a wave? 10 January 2022.
https://theconversation.com/what-is-the-value-of-a-wave-how-changes-to-our-coastline-could-wipe-out-surfings-benefits-173502?
Brad Farmer. 30 Jan 2022
https://www.mygc.com.au/the-gold-coast-beach-ranked-among-australias-best/
City of Gold Coast. Nature Based Recreation Plan 2015 - 2025.
Tourism Gold Coast - Part 1. 14 January 2020.
http://www.saveourspit.com/No_Terminal/news/NewsArticle.jsp?News_ID=304
Gold Coast Waterways Authority. Gold Coast Seaway History. 22 April 2017.
https://gcwa.qld.gov.au/gold-coast-seaway-history/
Save Our Spit Alliance Film: "Australia's Top 20 Beaches". 3 February 2022.
https://www.youtube.com/watch?v=l8AmS4y2WDQ
Secret Study values Broadwater at $4.16 billion. 14 August 2013.
http://www.saveourspit.com/No_Terminal/news/NewsArticle.jsp?News_ID=198
John Elder. Unhealthy body image? Get among the trees, give yourself time to think
The New Daily, 21 January 2022.
https://thenewdaily.com.au/life/wellbeing/2022/01/21/nature-helps-body-image-issues/