Beach Bar Trial. All Splash, No Substance, Massive Cost to the Community.
As announced in the local Newscorp papers, Gold Coast Mayor Tom Tate will gift Crown Land on the primary dune system at Kurrawa Beach to an unknown proponent, to trial a "Beach Bar"from December 1, 2021–January 31, 2022 (Weston, 2021).
Instantly the usual nods of approval from the freshly arrived ("I can't wait to sit on the sand and have a beer like at Kuta") and the local real estate/tourism mafia ("We need new tourism product, we're old and tired"), took off on social media and in print.
A "Super Majority of Councillors" in chambers, approved the trial(Weston, 2021).
It is apparent, as with most schemes emanating from the mayor's office, that there has been very little thought put into the practicalities of such a project, and there was ZERO consultation undertaken with residents. Similarly, it appears that the Councillors were not engaged in any consultation, nor made aware of any research undertaken by the mayor's office regarding the project.
Now while we would never suggest that the mayor's office would intentionally hide information from the public to protect any possible proponent from public scrutiny (see previous ASF Consortium Proponent or the redacted CST Reportor the State 'misconduct investigation' into the Mayor's preferred Council CEO appointment), here at SOSA, we are always happy to help when needed.
Simplified, Elkington's (1994) Triple Bottom Lineapproach to Sustainability is an accounting method whereby a project or corporate enterprise can be measured asking 3 basic questions:
1 Does the project stack up Socially?
2 Does the project stack up Environmentally?
3 Does the project stack up Economically?
Applying this People, Planet and Profit idea to Tate's new "Beach Bar". As we have done below, reveals some interesting results.
People
According to the GCB report (Weston, 2021) the "Beach Bar" as announced the day before, has now morphed into a "Beach bar, club, kitchen" that will host "low impact exercise and wellbeing classes such as yoga, tai chi and meditation".There is no mention of how big the fence will be to keep the public out, nor how much it will cost to enter the premises.
While this outstanding piece of "greenwash" may appeal to some in the community, it is an attempt to mask the real purpose of this venue, the sale of alcohol for profit.
Surf Life Saving Australia (SLSA) reported that 22 people had drowned nationally in the periodbetween December 1 (2020) and January 22 (2021) (SLSA, 2021), and that 90% of these drownings had occurred at unpatrolled locations.
That is roughly the same time-period for the upcoming trial.
A 15-year analysis of fatal coastal drownings in Australia, found that young male adults (aged 15-34 years) account for 25% of all maleswho drowned(Lawes, Ellis, Daw, & Strasiotto, 2020). Unsafe behaviours alongside certain activities or locations create deadly combinations of risk factors, and there is a direct relationship between age, activity, attitude, and affluence, where young males drown more while participating in affordable activities with fewer regulations, than they do in organised or regulated activities(Lawes et al., 2020).
According to the Author's, this period of adolescence and early adulthood is also recognised as a time where the likelihood to engage in risk-taking behaviours increases (ie, participating in aquatic activities under the influence of drugs and or alcohol, and disregarding safety messaging)(Lawes et al., 2020).
The Author's found that young males drowned more (1.68 times) after consuming illicit drugs (amphetamines 2.26 times; cannabis 2.25 times),than at any other age(Lawes et al., 2020).
However, alcohol was found to be a significant factor in coastal drownings across all adult age groups and gender. The research found that the average Blood Alcohol Content (BAC) for young males who fatally drowned while under the influence of alcohol was 0.17, and while three times greater than the legal limit (0.05 g of alcohol per 100 mL blood), this was significantly lower than the mean 0.2 BAC for other adults(Lawes et al., 2020).
The results are clear; a combination of drug and/or alcohol use, risky behaviour and disregard for safety messaging can lead to drowning fatalities at unpatrolled beaches. Kurrawa Beach is well-known amongst the local community as being a dangerous stretch of open beach for swimmers, featuring many rips and strong currents and is unprotected from all winds and swell directions. It is patrolled from 8am to 5pm daily, by Council Lifeguards.
Similarly, Kurrawa Beach, sits on the edge of a residential and tourism precinct. As of the time of writing, there has been no information presented as to what impact noise and alcohol related incidents from the proposed venue will have on residents.
Noise complaints have been made against Cali Beach Club by residents in Surfers Paradise (Whiting, 2021), and Nobby's Beach residents have made noise complaints about the venues in their precinct, and complaints to police and council about patron behaviour outside the venues, including vandalism and urinating in public and private areas(Cassidy, 2021).
It is important to note that the Cali Beach Club in Surfers Paradise is situated within a tourism precinct, however, the area is home to many permanent residents, including young families. Nobby's Beach is predominantly a residential area.
In both instances, unnamed officers from the City of Gold Coast, and the Office of Liquor, and Gaming Regulation (Qld Gov) have seemingly washed their hands of the resident's concerns and passed the issues back and forth between their respective departments.
Unfortunately, it looks as though the trial will operate in the same way that council has allowed the Cali Beach Club to operate – closed to residents, noise first, complaints later.
Result: Alcohol + Noise + No Locals = Project fail.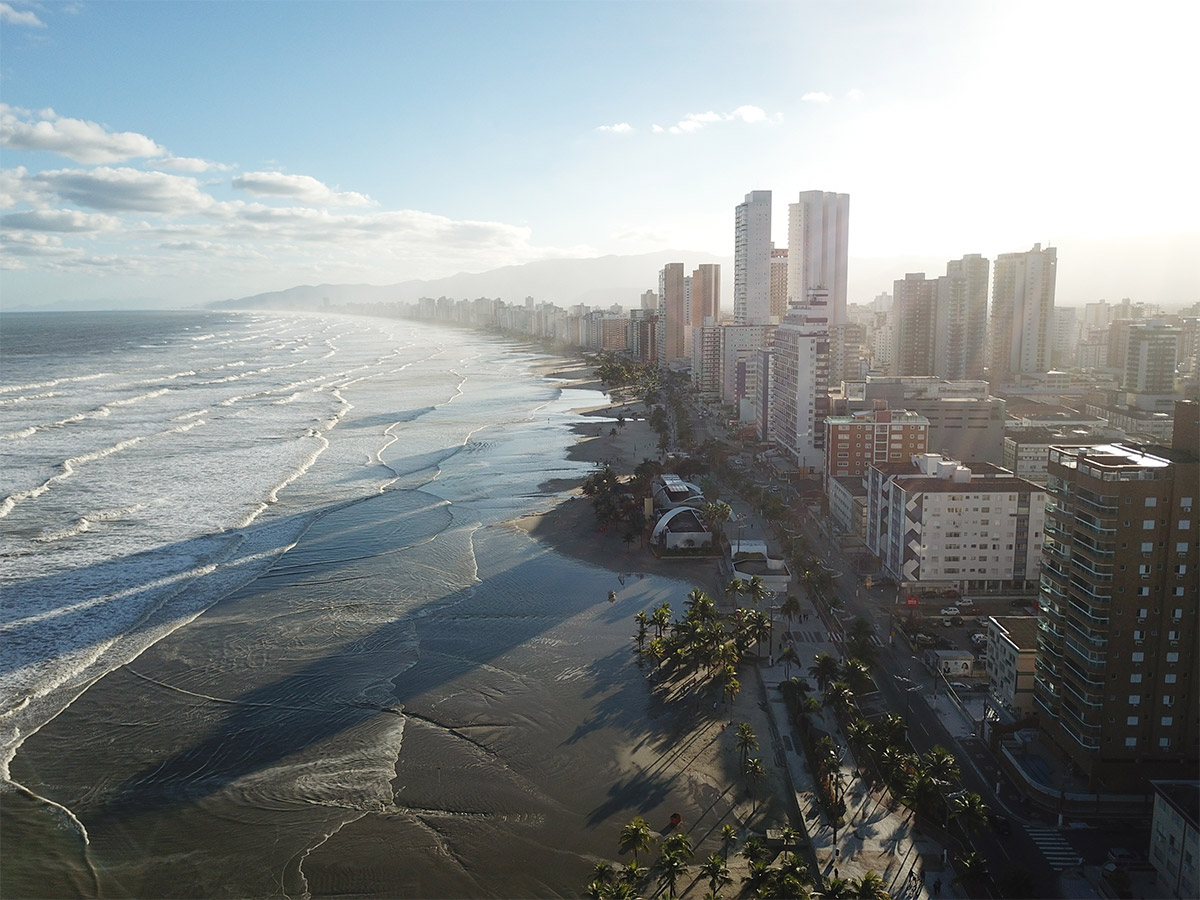 Beach Bar - Brazil leads the way?
Planet
The Gold Coast is built, and survives on, sand. Sand shapes the beaches we sit on, the waves we ride and ultimately, protects the buildings many of us live in. As we have learned time and time again, no sand, means no beaches, which means no Tourists. According to the City of Gold Coast's Ocean Beaches Strategy 2013-2023(COGC, 2021), 11.5-million day-trippers hit our beaches annually.
However, sand is not the most solid foundation to build a city on. Longshore drift dictates the migration of sand along our coastline, filling up all the nooks and crannies during the winter southerly swells, before being blasted out to sea again, when the northerlies hit in summer.Similarly, the dunes form in stages, with the Primary Dune, being the last line of defence, if that is damaged, then major erosion can occur. The City of Gold Coast knows this and has poured billions into sand replenishment over the past 6 decades, including the world renown Sand Bypass systems at either end of the Gold Coast. As a result, many of the world's leading coastal management scientists live and work in this city.
Tate's Beach Bar is proposed to be placed on top of the primary dune system at Kurrawa, where there is no water/electricity/internet or waste infrastructure in place.
However,the beach bar site is linked to the adjacent Kurrawa Terrace site which"has a hand (sic) stand area with access to power and lighting, which was used for the Commonwealth Games media centre"(Weston, 2021). In the same article "council officers confirmed the area for the clubhouse would extend 20 metres into the sand".
If this is correct, then this project risks destroying the primary dune system and increasing erosion as a result. Similarly, large areas of the adjacent public park will be dug up for the infrastructure needed to operate.Finally, how waste will be managed, including the removal of waste-water and sewerage and general rubbish from patrons, such as glass and plastic waste should be a priority as our beaches are amongst the cleanest in the world.
Result: Destruction of Primary Dune system + Increased Erosion + more Waste and rubbish = Project Fail.
Profit
As of the time of writing there is no listing for this project on the City of Gold Coast's Tender webpage, nor was there an alert for the project in the classified section in today's local newspaper (GCB, 13/10/21).
As mentioned above, the proposed site contains no infrastructure, and is Crown Land under the control of the Queensland State Government.
The mayorhas stated publicly that"the city will waive all standard City of Gold Coast fees associated with the use of the Kurrawa Terrace space" (Weston, 2021).
This statement clearly demonstrates that the mayor is charging the ratepayers of the City of Gold Coast to fund the water/electricity/internet and waste infrastructure, for a private operator to build and operate a hospitality business, on Crown Land.
Similarly, the potential increased costs of extending Lifeguard and Emergency services to keep people safe during the trial have not been revealed.
Result: Net Zero Return on Investment, for the ratepayers of the City of Gold Coast/100% profit to the (secret) Proponent = Project Fail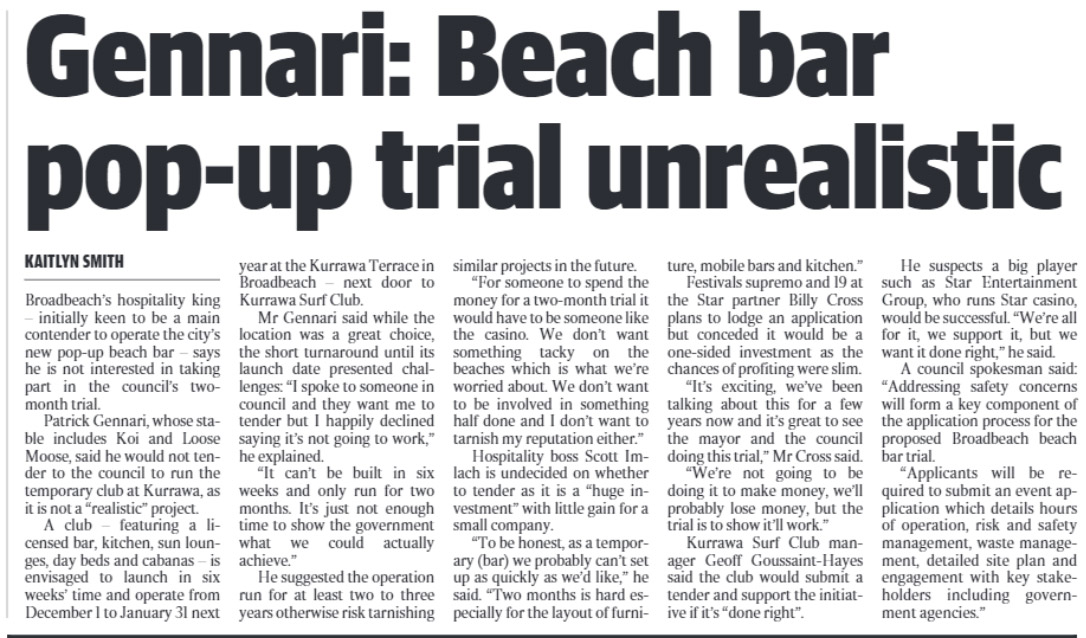 Gold Coast Bulletin 14-October-2021 Kaitlyn Smith
What do the Professionals say?
According to some hospitality figures, the project is a waste of time and money. Mr Pat Gennari, who had previously failed to have a beach bar established on the same site in 2018 for the Commonwealth Games Council's has stated that the project is "unrealistic". Mr Gennari, has since announced that he wants nothing to do with the trial project, adding that "while the location was a great choice, the short turnaround until its launch date presented challenges (Smith, 2021). "It can't be built in six weeks and only run for two months." He suggested the operation run for at least two to three years otherwise risk tarnishing similar projects in the future. "For someone to spend the money for a two-month trial it would have to be someone like the casino. We don't want something tacky on the beaches."
Hospitality boss Scott Imlach said it is a "huge investment" with little gain for a small company. "To be honest, as a temporary (bar) we probably can't set up as quickly as we'd like," he said. "Two months is hard especially for the layout of furniture, mobile bars and kitchen" (Smith, 2021).
Council's own Local Law No.10 (Bathing Reserves) says businesses are to be restricted so that they "do not enjoy an unfair commercial advantage over activities conducted from a fixed premises" (COGC, 2021; Levy, 2021). Similarly, any proposal must "preserve and enhance public safety and amenity"(COGC, 2021; Levy, 2021).
The City of Gold Coast's Ocean Beaches Strategy 2013-2023 (COGC, 2021), was put together following extensive consultation with marine scientists, conservationists and the local community. The Coastal Management Plan Principle No.4 clearly states "4.1 Public access and use of the coast is maintained by avoiding the use of State coastal land for:
creating exclusive private access to the foreshore
creating exclusive private use of beaches
The strategy outlines 16 key actions from 4 Outcomes for the city's beaches, in line with community expectations, some of which are presented below.
For Outcome 1 EVERYONE CAN ENJOY A BEACH EXPERIENCE, the following is to be achieved for the community:
a safe beach environment
residents and visitors can enjoy a beach experience
a coordinated approach to managing commercial activity on our beaches and in our parks.
For Outcome 2 OUR BEACHES ARE HEALTHY AND CLEAN, the following is to be achieved for the community:
there is a balance of sand for walking, playing and relaxing
there are sand dunes with native vegetation, reducing the risk of sand loss and providing animal habitat
sand dunes are protected from becoming overgrown with weeds and negative human impacts, such as pedestrian traffic
the beaches are free of litter
For Outcome 3 OUR INFRASTRUCTURE IS PROTECTED FROM COASTAL HAZARDS,the following is to be achieved for the community:
the beaches and dunes are managed to protect public property
the volume of sand on the beach provides a buffer from erosion and storm events
new development will be set back to allow for natural coastal processes.
For Outcome 4 THERE IS JOINT STEWARDSHIP OF THE OCEAN BEACHES, the following is to be achieved for the community:
everyone understands the benefits of having clean, healthy, safe, and accessible beaches
there is equitable investment in beach management from different levels of government and those who benefit from having clean, healthy, safe, and accessible beaches
research and community engagement activities inform balanced decision-making
stakeholders are informed and actively participate in actions to manage ocean beaches.
Mate's Rates
It is apparent, that not only is the mayor ignoring council's own strategy document, including its purpose and outcomes, but he appears to be intent on subverting the document to use ratepayers' money, to prop up a private business, on Crown Land.
There has been no consultation with the Qld State Government, or even permission sought, as to if they can use the land.
Similarly, there has been no consultation with the local community, or Councillors about the project.
Local hospitality figures have also stated that the project is "unrealistic" and "tacky".
At the time of writing, there is no indication as to which one of the mayor's current squad (Seaworld, Star Casino, Cross Entertainment, Artessian etc) is going to benefit from the city's, sorry, the mayor's largesse.
Finally, it is clear that alcohol, young males and beaches do not mix. It's a deadly mix, literally.
Here at SOSA, we are not opposed to developments or new projects; however, we will only support proposals that are socially, environmentally and economically sustainable.
This latest proposal from Tate is a dismal failure on all three counts (People, Planet and Profit), and it will cost the ratepayers millions, and benefit only a hand selected few.
For more information, we suggest you contact the Mayor's Office, and your local Councillor today.
Sources and References
Cassidy, T., Webber, M., Rope, S. (2021). Nobby Beach locals file complaints over loud noise, vomiting, defecating near night precinct.
COGC. (2021). Gold Coast Ocean Beaches Strategy 2013-2023 Retrieved from https://www.goldcoast.qld.gov.au/:
Lawes, J. C., Ellis, A., Daw, S., & Strasiotto, L. (2020). Risky business: a 15-year analysis of fatal coastal drowning of young male adults in Australia. Injury prevention, 27(5), 442-449. doi:10.1136/injuryprev-2020-043969
Levy, L. (2021, 13/10/2021). [No Beach Bars].
SLSA. (2021). SURF LIFE SAVERS AUSTRALIA DAY WARNING: FATAL DROWNING DEATHS 2.4 TIMES MORE LIKELY.
Smith, K. (2021, 14/10/2021). Gennari: Beach Bar Trial Unrealistic. Gold Coast Bulletin.
Weston, P. (2021, 13/10/21). Gold Coast pop-up beach club trial approved at Kurrawa. Gold Coast Bulletin.
Whiting, M. (2021, 6/10/2021). Cali Beach Club, Surfers Paradise, hit with noise complaints. Gold Coast Bulletin.