Want to help out? PLEASE SHARE THIS ARTICLE ON FACEBOOK
Remember this golden pledge from the Liberal National coalition a few years back? That was of course before they were voted in to power as the Queensland government, now led by the Campbell Newman and Jeff Seeney. What of their 'set in stone' pledge today? Don't dare ask Mr Springborg about it, it seems it never happened. It did have a lovely green stamp on it though ...

Headlines and articles in Queensland newspapers during the 1980's reveal that the National Party Member for Southport, Doug Jennings, was ostracized, threatened and intimidated by developers and his own Queensland National Party, during the Bjelke-Petersen period of State Government, for his stance against any further commercial/private development on the Crown Land on the Gold Coast Spit and Broadwater. Doug Jennings truly represented the community who elected him and consequently his efforts were celebrated by the naming of the northern Spit as 'Doug Jennings Park' following his death in 1987.
Unfortunately, Doug died of a heart attack at the age of 57 but his legacy lives on. Since 1987, the people of the Gold Coast have continued to fight various State and Local Governments in an effort to retain the Spit and Broadwater as public open spaces for recreational and passive tourism activities. At Doug Jennings' funeral, Father Raymond Smith spoke to a packed congregation and prophetically announced that:
"The Southport Spit will probably become a monument to the greed, arrogance, negativity and lack of vision of those who seem incapable of rejoicing in God's gift" - Father Raymond Smith, April 13, 1987
Political
Suggestions that the Save Our Spit Alliance is not political are completely wrong as we have never been apolitical, quite the opposite, we are very political in that we support and promote those political parties, independent political candidates and community leaders who support our aims and objects, which are enshrined in the SOS 'Rules of the Association' since our formation in 2004. In the spirit of Doug Jennings' fight to preserve the Spit and Broadwater for the community, our Association Rules include:
To work with Gold Coast community sectors for the development of an integrated and holistic vision, and management plan for the conservation and sustainable use of the natural environment of the Spit, Broadwater, its foreshores and islands.
Conservation
To work for the conservation and rehabilitation of the public reserves and parks of the Gold Coast Spit.
To work for the maintenance of an ecologically sustainable marine environment of the Broadwater and Seaway.
To protect all native terrestrial, estuarine and marine species in the Spit, Broadwater and foreshores, and island areas, especially those of rare, threatened or endangered status or protected by an international agreement to which Australia is a signatory.
Community
To preserve for current and future generations, access and enjoyment of the public open space areas of the Spit, Broadwater and foreshores and islands as relief from the urban city areas.
To provide accessibility and facilities for diverse, low key, low impact environmental and cultural education and recreation in areas of ecological sensitivity.
To provide appropriate and minimal infrastructure for the enhanced enjoyment of Doug Jennings Park.
To work with the traditional and indigenous members of the community in conserving the cultural heritage of this area.
Education
To establish community education programs providing information and actions towards the conservation, rehabilitation and sustainable use of the area.
To develop links with educational bodies on the Gold Coast or wider area to facilitate research into the environment of the Spit, Broadwater, foreshores and islands and community education.
Economy
To encourage the development of ecologically sustainable economic enterprises in the area.
To encourage the use of sustainable practices by all economic enterprises using the area.
To encourage the phasing out of environmentally damaging practices by all users of the area.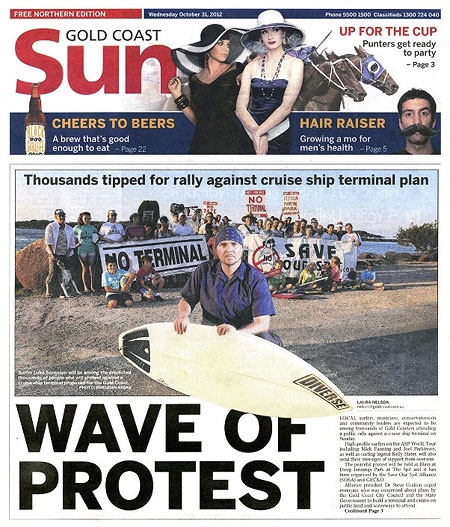 The Past and Present
Consequently, during the Save Our Spit 2004 – 2006 campaigns in opposition to the then Labor State Government's 'Notional Gold Coast Marine Development Project', SOS encouraged Gold Coast voters to vote for the political parties and independent candidates who opposed the Labor Government's proposal for a takeover of 8 hectares of public parks, waterways and open space on the Spit under the guise of the 'public need' for a cruise ship terminal on the Spit.
Likewise, at the upcoming 2015 Queensland State and 2016 Gold Coast Council elections, SOS will promote and support those parties and independent candidates who oppose the Broadwater Marine Project (BMP) initiated by the Gold Coast City Council (GCCC) in association with the LNP State Government and the subsequent State Government initiated 'Integrated Resort Development' (IRD) process which is entertaining a proposal for a cruise ship terminal (unknown location as yet) and the commercial/privatisation of a minimum 85 hectares of public space, islands, beaches and waterways on the Broadwater, Spit and Wavebreak Island by the Chinese consortium, ASF Group and their Chinese Government–owned construction partners. This foreign group proposes casino(s), private apartments, high-rises, marinas, retail shops, restaurants and hotels on public parks, beaches and islands to subsidise a Gold Coast cruise ship terminal which will be 'financially unviable as a stand-alone operation' (AECgroup Business Case Report 2012).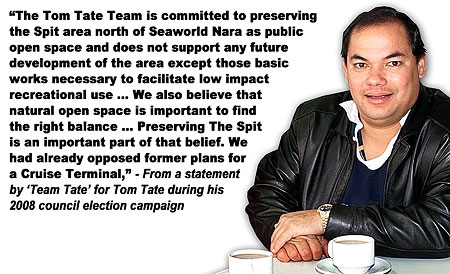 Rumours
It has become apparent that certain State LNP political apparatchiks have recently been spreading rumours to Gold Coast Business and Tourism sectors and elements of the Gold Coast media that the Save Our Spit Alliance is 'divided' and therefore 'should not be taken seriously'. Given the clear 'aims and objects' of the SOS Alliance as stated above, suggestions that SOS is divided are at best, pure propaganda and at worst, plain lies. Those who continue to peddle these rumours are naïve if they believe their actions will destabilise or undermine the credibility of the Save Our Spit Alliance. They continue their behaviour at the risk of losing respect amongst Business and Tourism leaders, the Media and the Gold Coast Community, in addition to drastically shortening their political careers.
How did SOS become aware of these rumours? Well, strange as it may seem to some, SOS has maintained deep and long-term support from Business Leaders and Tourism Operators during our 11 years of campaigning to preserve the Spit and Broadwater for its current users, businesses and tourism operators. These supporters contacted SOS to pass on their concerns that certain political figures were attempting to undermine SOS's credibility through a rumour campaign by suggesting we are not unified in our vision for the Spit and Broadwater.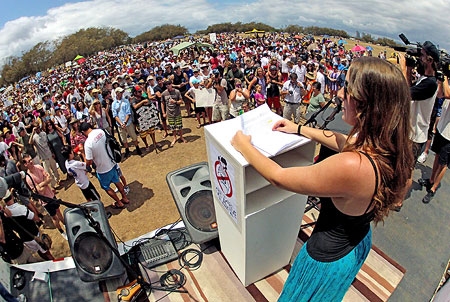 Throughout its 11 year history, the Save Our Spit Alliance has never been stronger or more unified. On this basis, several Save Our Spit members and supporters have been inspired to establish their own single-issue community action groups. SOS has had the privilege of liaising with these groups and offering support and advice where appropriate, just as these groups continue to support SOS.
With this in mind, congratulations go to the 'Save Our Broadwater' community action group which has recently recruited highly experienced committee members from Business, Political, Media and Legal backgrounds. While SOS fights from the trenches we are very pleased to have the Save Our Broadwater 'Special Forces' at our side and fighting behind the scenes with effective and innovative strategies.
SOS is excited by the plethora of community action groups that have formed and united on the Gold Coast to assist in the current fight against Mayor Tate, his current gang of Tate-8 Councillors (Caldwell, Taylor, Bell, Crichlow, Owen-Jones, Gates, La Castra, Tozer), several GCCC officers and elements of the LNP state government. We believe they have blindly obeyed Tate's commands to push through at every step Tate's false terminal agenda, despite the mountains of scientific, environmental and social impact evidence available to them to oppose it. It appears public officials have continually shown a preference for serving their own business, political or personal interests and beliefs; favouring their business mates; or kow-towing to the attempts by foreign consortia and entrepreneurs to grab Gold Coast public assets, parks and over 5 kilometres of our clean sandy beaches and foreshores.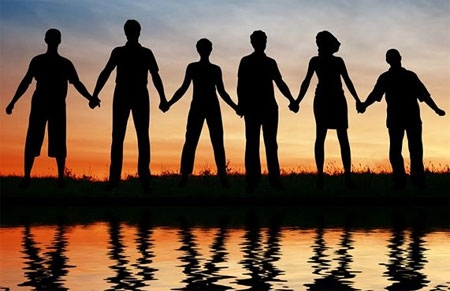 Hypocrisy
Through social media, SOS has also pointed out the hypocritical behaviour of the Federal LNP member for Moncrieff, Steven Ciobo, and the State Member LNP for Surfers Paradise, John-Paul Langbroek, who both spoke out publicly against the Labor 'land grab and lack of community consultation' in reference to Labor's 2003-2007 cruise ship and privatisation plans on the Spit while Mr. Langbroek was in political opposition. Following the LNP election to State Government in 2012, Minister Langbroek and Mr. Ciobo appear to have done a huge back-flip and now support the current casino/privitisation/cruise ship proposals in their electorates that will see the give-away/lease/sale of 10 times the area of public open space originally proposed in the Labor Government's cruise terminal plans.
Steven Ciobo & John Paul Langbroek criticise the process
And despite his forceful stance against the Labor Government's ship terminal and 'land grab' proposal, while serving as Opposition Leader of the Queensland Coalition, Lawrence Springborg has said nothing on the issue since the LNP was elected to government. Yet in 2006, Minister Springborg stood on the stage beside Dr Gration at a Save Our Spit Rally stating publicly, 'We have protected the Spit for forty years, and will for another forty and beyond and beyond and beyond...'
Jeff Seeney - No Development Pledge (40 years)
Likewise, GCCC Councillor, Dawn Crichlow (a life-long member of the Queensland National Party), now suddenly supports the commercial/private takeover of Wavebreak Island and large areas of The Spit with casinos/private-apartments/hotels/high-rises/marinas and a cruise ship terminal. This stance is despite her statements during the 2004 - 2006 campaign saying that Labor's plans for the Spit terminal were just an excuse for 'commercial, retail, hotels… it's a land grab.'
Councillor Crichlow also spoke several times at Save Our Spit public rallies whilst wearing a Save Our Spit Tshirt, strongly opposing the Labor State government's cruise ship proposals for the Gold Coast but has done a complete 180 degree turn on the issue since the Tate led LNP-bloc began dominating the Gold Coast City Council and the LNP were elected to State Government in 2012. If Doug Jennings were alive to witness Crichlow's apparent betrayal of his legacy, he would no doubt be utterly disgusted with her current disregard for his efforts to preserve the Spit and Broadwater 'in perpetuity' for the Gold Coast community.
No Mandate
Since being elected Mayor of the Gold Coast on April 28th 2012 with only 37% of the vote, Tom Tate has continuously and falsely claimed that he had a 'mandate' to build a cruise ship terminal on the Spit. In fact, he quietly placed his crude publicly-owned terminal policy on his official campaign website just 24 hours before the election, without announcing its presence. His plan for a miniscule rate-payer funded floating terminal on the Spit (with no signs of associated development and privatisation) appeared in the local newspaper just a few hours before that on April 26th 2012. (Read the article here)
Few had knowledge of Tate's proposal and many people had already cast their postal and absentee votes without any knowledge of Tate's plans. Regardless, anything Tate said before the election bears no resemblence to the current ASF China proposal. Going by Tate's official website and campaign at the time, a vote for Tate would have presumably meant a vote to protect the Spit and Wavebreak from commercial development. Any suggestion by Tate that he was elected on a 'mandate' to build a cruise terminal is misleading.
Of note though is Geoffrey Chambers' article in the Gold Coast Bulletin which declares:
Mr Tate, a prominent LNP donor who met Transport and Main Roads Director-General Michael Caltabiano last week, said the two-storey terminal would allow cruise ships to re-stock with Gold Coast produce, adding extra value to the economic boost to tourism...

"The guiding principle is that The Spit will remain open to the public and remain accessible to the public for the enjoyment of all Gold Coasters", Mr Tate said. (GCB 26/04/12)
The Mayor's proposal, now in the hands of State Government and ASF China, will see the privatisation of the remaining open space on the western side of the Spit with reductions to Doug Jennings Park and Federation Walk Coastal Reserve and the privitisation of Wavebreak Island and surrounding waterways - that is over 100 hectares of public parks and foreshores, including more than 5 kilometres of public beaches. This makes a complete lie of the statements above by Tate to Chambers.
While Tate may have met with Director General, Michael Caltabiano, two weeks before the 2012 GCCC elections to expound his cruise ship idea, the Gold Coast community were not made aware of Tate's plans at the time and therefore Tate cannot claim a 'mandate' for his last minute proposal. Caltabiano was relieved of his Director General position in February 2013, amidst misconduct allegations after he hired former Arts Minister Ros Bates' son to a senior position in his department.
"I think we should leave the spit for families, fisherman and surfers ... Camp grounds and day trip facilities for wavebreak is a yes for me but fifty storey hotels will be a "no" from me." - Tom Tate election pledge from his official website in 2012 (Tom maintained this official stance on Wavebreak for many months leading up to the election, campaigning with it right through into the polls and election day)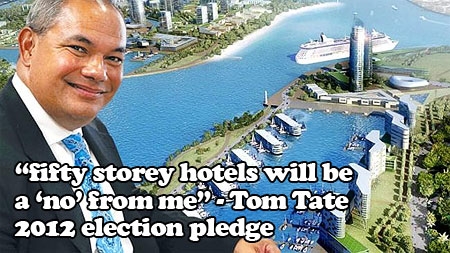 The Compromise
Whilst opposing a cruise ship terminal since 2004, the Save Our Spit Alliance has maintained that if there is a demonstrated need for more marina berths, superyacht facilities, chandlery, hospitality and accommodation to service the maritime-based activities on the Gold Coast Broadwater, these developments should be contained to the two parcels of crown land south of Seaworld (approx. 7 hectares) and south of Mariners Cove (approx. 3 hectares). The provisos for potential development in these areas are:
No cruise ship terminal or associated developments and no buildings higher than the current 3-storey limit (tree-top height) as prescribed in the current Local Area Plan (LAP) and in accordance with GCCC building regulations for all existing commercial developments on the southern Spit.
Seaworld Theme Park; Versace and Mirage hotels; Marina Mirage, Mariners Cove and Southport Yacht Club etc are all restricted to the 3-storey height limit as should all future proposals for the two remaining parcels of crown land on the west-side of the southern Spit.
This is the SOSA compromise position in relation to our mantra of 'No Development North of Nara' (Seaworld Hotel and Convention Centre) which includes no commercial/private development on the Marine Stadium, Doug Jennings Park, Federation Coastal Walk Reserve, Wavebreak Island or their foreshores and beaches.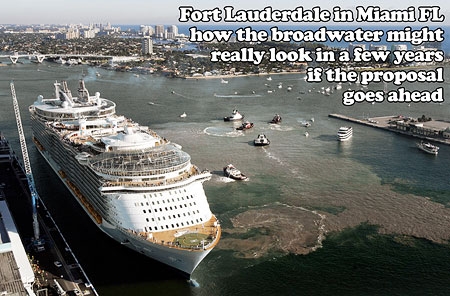 The Future
SOSA sees the future of the Gold Coast as being driven by a diversified economy which is not solely reliant on the 'two-trick white-shoe pony' of 1980-1990's tourism and construction models which are still being promoted by the Gold Coast Mayor and sections of the tourism and development industries who are living (and dying) in the past.
Our vision is for a diverse economy which works in harmony with the natural and wildlife environments, and the recreational and tourism activities which currently exist on the blue, green and gold public open space on the Spit and Broadwater. This will create new economic and job opportunities across the wider Gold Coast, including:
1. In the lead up to and in the spirit of the 2018 Gold Coast Commonwealth Games, a focus on the economic drivers of Eco/Nature/Health/Sports/Fitness/Life-style tourism and recreational activities. These activities require the Spit, Broadwater and Wavebreak Island to be maintained in the most natural states possible to ensure the sustainable future of the diving, fishing, surfing, kayaking, wildlife (whale & bird watching), sports/fitness/health and boating industries which bring hundreds of millions of dollars to the Gold Coast annually. These assets and activities make the Gold Coast unique in the world because no other city has such a variety of wildlife, recreational, health/fitness/sports and passive tourism options and associated job opportunities on its doorstep.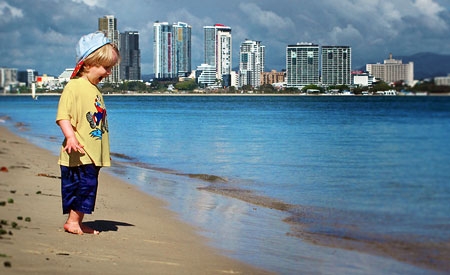 2. The construction of suitable student accommodation and services to complement the 3 major University campuses on the Gold Coast in an effort to attract greater numbers of regional, interstate and international students to the Gold Coast with a growing reputation as the 'best campus city in the world'. And to promote the quality of the Gold Coast's public and private secondary schools and boarding facilities and other educational institutions highlighting the Gold Coast as one of Australia's leading Educational Services cities.
3. Promote and support the Gold Coast as a major Coastal Engineering; Town Planning; Marine Biology; Eco-Tourism; Performing, Writing, Film, Graphic and Visual Arts; International Business; Environmental Law; Sports Science; Fitness and Health; Medical and Dentistry training and research city by attracting the brightest national and international students, staff, teachers, lecturers and researchers to our Training and Tertiary Institutions and through the retention of our high achieving graduates as working professionals and residents of the Gold Coast.
4. Promotion and Incentives to attract Australian and International Film and Television Industry and Producers back to the Gold Coast studios and local environments (such as the Gold Coast's Spit, Broadwater, Hinterland, Moreton Bay Islands and urban centres) which provide brilliant locations and facilities for making quality Films and Television productions while providing high quality local accommodation, hospitality and other services for artists and crews. This initiative will also be an incentive for the employment of the thousands of actors, designers and technical crew who currently reside on the Gold Coast but are forced to chase work predominantly interstate or overseas.
5. The construction, upgrading and maintenance of family-friendly accommodation, public transport and other services to complement the theme parks and sports/nature/health activities available to families visiting the Gold Coast; that is, accommodation where families feel safe, can access the beach and other natural features easily and can cook and prepare family meals at their accommodation, thus contributing financially to local stores, food suppliers and small businesses. This strategy is aimed at building on the love affair Australian families have traditionally conducted with the Gold Coast over the past decades rather than obsessing with a total focus on catering only for the passing fads and fickle trends of various groups from overseas and their short term and constantly changing international tourism trends to the exclusion of the needs of Australian families and other domestic tourists. Tourism figures continually reveal that even in tough financial times, 94% of visitors to the Gold Coast are domestic Australian tourists.
6. Construction, maintenance and promotion of camping grounds, backpackers facilities and B&B's on the Gold Coast to attract long-stay visitors and tourist demographics such as the high spending Australian 'Grey Nomads' and International Backpackers. These visitors will potentially stay for months at a time (especially during the winters in the southern states) and spend in diverse areas of the Gold Coast economy including local traders, cafes, restaurants, supermarkets, night clubs, theme-parks and on adventure, sports, health, nature, wildlife and fitness tourism activities, if the appropriate facilities are made available combined with effective marketing.
7. The retention of the Broadwater, Spit, and Wavebreak Island etc as public open spaces to assist in promoting the Gold Coast as a world-class Elite Sports Team and Athletes' Training and Fitness City. The potential is already evident with several World Cup Triathlon teams basing themselves on the Gold Coast during northern hemisphere winters. In the past, British, Canadian and other national Rugby and Swimming teams have used TSS and local parks and sporting facilities during intensive training camps on the Gold Coast. Greater promotion of the open space, accommodation and sporting facilities that are available for elite national and international sports teams and individual athletes can be further expanded, especially in the lead up to and following the 2018 Gold Coast Commonwealth Games.
8. The construction and establishment of Financial, Corporate and IT centres in suitable areas such as Southport (as distinct from tourism-dedicated areas like Surfers Paradise), in order to attract and establish major National and International company branches or their corporate headquarters in a city that is not gridlocked, has a reliable public transport system (bus, rail, light rail, air, cycle and walking tracks) and is not hyper-expensive for office rentals and parking spaces etc. unlike the high costs experienced in Brisbane, Sydney and Melbourne. Accordingly, we should work at retaining our brightest IT and Software Development graduates from local Tertiary Institutions, thereby establishing the Gold Coast as a Smart-Financial Centre and Australia's leading 'Silicon City'. Southport and much of the greater Gold Coast also has the bonus of unencumbered views of the Broadwater, Spit, Wavebreak and Stradbroke Island and the vast expanse of the Pacific Ocean, in addition to a temperate climate which promotes staff participation in fitness, health and sporting activities thus increasing worker productivity.
Continuing and Growing Opposition
This vision of an economically and environmentally diverse and sustainable Gold Coast, is one of the reasons Save Our Spit Alliance continues to oppose the political push for commercial-privatisation of up to 100 hectares of public open space, parks, foreshores, beaches and islands on the Spit, Broadwater and Wavebreak Island under the guise of needing a 'financially unviable' cruise ship terminal (CST). We oppose the destruction of beaches, marine and wildlife habitat and the consequent negation and sabotage of existing tourism and recreational activities and industries such as surfing, boating, fishing and diving by promoting activities and developments on the Spit and Broadwater which work in conjunction with the current environs and wildlife habitat rather than destroying them.
Every official report since the 1980's has revealed that the construction of a cruise ship terminal and the consequent public land grab for private-commercial purposes associated with subsidising a financially unviable CST, will lead to Economic, Environmental, Financial and Engineering disasters for the Gold Coast. This is apart from the social injustices and moral bankruptcy such projects will impose upon the Gold Coast Community (go to www.saveourspit.com to review over 200 articles, research and reports on these issues under 'Research Library').
Following the State Government's and the Tate LNP-dominated City Council's cynical and cruel disregard of the Gold Coast Community on a range of issues, the 'tsun-army' of community groups that have emerged in tandem with the strengthening of the resolve of existing groups, is testimony to the deep discontent that the residents of the Gold Coast are feeling in the lead up to the 2015 State and 2016 GCCC elections. Gold Coast-based community groups currently active include:
Save Our Spit Alliance
Save Our Broadwater
Save Our Southern Beaches
Save Our Revetment Walls
Gold Coast Community Alliance
Wildlife Qld – Gold Coast
Gecko - Gold Coast and Hinterland Environment Council Association Inc.
Surfrider Foundation
Stop the Quarry
Sea Shepherd – Gold Coast
Humpbacks and Highrise
Sarah Shark Project
Surfers Against Ships
Save Our Tip
North End Boardriders
Nerang Community Association
Gold Coast Seagrass Watch
Marine Action Group
GC Dive Industry
Main Beach Progress Association
Friends of Federation Walk
Surfers Beachfront Protection Association
more ...
Demographically, these groups represent huge numbers of the Gold Coast Community across a wide range of ages, socio-economic, political, social, resident, sporting, business, tourism, educational, environmental and local-issue interests and backgrounds.
We thank the Save Our Spit Committee, our members, volunteers, subscribers, community partners, supporters and other community action groups for their continued support, passion, actions, research, donations and assistance over the duration of this long, and so far successful, community campaign against the potential sale, lease and give-away for private use and commercial constructions of the last remaining public parks, waterways, beaches and open space on the Gold Coast Spit, Broadwater and Wavebreak Island.
As the Save Our Spit Alliance celebrates its 11th year, we also approach the figure of 10,000 supporters on our Facebook page (Which we'd love for you to SHARE by CLICKING HERE) and as email subscribers to our campaign, plus many more offline members, supporters and sympathisers. The State Government, Mayor Tate (and the Tate-8 Councillors), GCCC Officers and political 'rumour mongers' have been put on notice – at the risk of losing their political futures and professional credibility, they ignore Save Our Spit Alliance, Community Groups (mentioned above) and the vast majority of the Gold Coast Community who oppose the City Of Gold Coast/ASF/State Government Broadwater Marine Project and Integrated Resort (casino) Development 'projects' on the Gold Coast Spit, Broadwater and Wavebreak Island.
Dr Steven Gration
SOSA President on behalf of Committee, Members and Supporters
July 2014
---
CALL TO ARMS!!! Get on to your local member and councillor today and let them know your views on the topic - more importantly let them know how it might effect your vote at the 2015 state and 2016 local elections! This is vital and only with ALL of your voices will we make sure that the government listens! Details below.
STATE GOVERNMENT MEMBERS OF PARLIAMENT AND MINISTERS
See all ministers here - http://cabinet.qld.gov.au/ministers.aspx
Hon Campbell Newman - Premier Of Queensland
www.facebook.com/campbell.newman
thepremier@premiers.qld.gov.au
07 3224 4500
PO Box 15185
CITY EAST QLD 4002
Hon Jeffery (Jeff) Seeney - Deputy Premier Of Queensland
www.facebook.com/JeffSeeneyMP
DeputyPremier@ministerial.qld.gov.au
07 3224 4600
PO Box 15009
CITY EAST QLD 4002
Hon John Paul Langbroek - Member for Surfers Paradise
www.facebook.com/JohnPaulLangbroekMP
Surfers.Paradise@parliament.qld.gov.au
07 5538 9833
Suite 1, Level 1, Building 1
Capri on Via Roma
ISLE OF CAPRI QLD 4217
PO Box 80
ISLE OF CAPRI 4217
Hon Rob Molhoek - Member for Southport
www.facebook.com/RobMolhoekMP
Southport@parliament.qld.gov.au
07 5532 5068
Shop 2, 24 Musgrave Avenue
CHIRN PARK QLD 4215
PO Box 903
SOUTHPORT QLD 4215
Miss Verity Barton - Member for Broadwater
www.facebook.com/VerityBartonMP
Broadwater@parliament.qld.gov.au
07 5563 9010
102 Imperial Parade (Cnr Government Rd and Imperial Pde)
LABRADOR QLD 4215
PO Box 644
LABRADOR QLD 4215
Ms Rosslyn (Ros) Bates - Member for Mudgeeraba
www.facebook.com/ros.bates
Mudgeeraba@parliament.qld.gov.au
07 5569 0482
Mudgeeraba Professional Centre
Swan Lane
MUDGEERABA QLD 4213
PO Box 897
MUDGEERABA QLD 4213
Hon Janet (Jann) Stuckey - Minister for Tourism, Major Events, Small Business and the Commonwealth Games - Member for Currumbin
www.facebook.com/jann.stuckey
Currumbin@parliament.qld.gov.au
07 5598 1387
Suite 1, Samuel Plaza
1045 Gold Coast Highway
PALM BEACH QLD 4221
PO Box 751
CURRUMBIN QLD 4223
Mr Raymond (Ray) Stevens - Member for Mermaid Beach
Mermaid.Beach@parliament.qld.gov.au
07 5592 0071
Shops 44 and 45, Level 1, Niecon Plaza
17 Victoria Avenue
BROADBEACH QLD 4218
Mr Michael Hart - Member of State Development, Infrastructure and Industry Committee - Member for Burleigh
www.facebook.com/michaeljhartmp
Burleigh@parliament.qld.gov.au
07 5526 6024
1 Paradise Avenue
MIAMI QLD 4220
PO Box 2093
BURLEIGH BC QLD 4220
Mr Michael Crandon - Chair of Ethics Committee, Member of Parliamentary Crime and Misconduct Committee - Member for Coomera
www.facebook.com/michael.crandon.7
Coomera@parliament.qld.gov.au
07 5514 0483
Shop 20, Hope Island Central
340 Hope Island Road
HOPE ISLAND QLD 4212
PO Box 80
OXENFORD 4210
GOLD COAST CITY COUNCILLORS
Contact details for all councillors here - www.goldcoast.qld.gov.au/council/mayor-councillor-profiles-429.html
Councillor Facebook Pages
Mayor Tom Tate - www.facebook.com/MayorTomTate
Deputy Mayor Donna Gates www.facebook.com/CrDonnaGatesDivision1
Cr Glenn Tozer www.facebook.com/pages/Glenn-TOZER-for-Mudgeeraba-Hinterland-Division-9/300557823309319
Cr William Owen-Jones www.facebook.com/WilliamOwenJonesDivision2GoldCoast
Cr Cameron Caldwell www.facebook.com/pages/Cr-Cameron-Caldwell-Division-3-Gold-Coast/528169690561801
Cr Greg Betts www.facebook.com/pages/Division-12-news-Councillor-Greg-Betts/268371713199582
Tracey Gilmore www.facebook.com/traceygilmoredivision5
Chris Robbins www.facebook.com/councillorchrisrobbins
Or you can cut and paste all the emails here (but we think a phone call or personal visit is ten-fold more effective)